Key Features of MenuPro
Menu design and printing made easy
---
Quick and easy 'Drag and Drop' interface
Create menus by drag & drop from your food list. No need to retype or cut and paste. No need to flip between screens to make changes. To reorder your items simply drag them on the menu.
Automate your Daily Specials
Keep a complete database of all your menu items. You can have hundreds of foods and beverages at your fingertips. Keep specials and seasonal items on file and ready to go. Make price changes and menu substitutions instantly. Create daily specials with just a few clicks from the list.
Over 175 instant Menu Styles™
Get the perfect menu design and layout with Menu Styles™.
An exclusive to MenuPro, Menu Styles are sort of like templates, but faster and without the constraints that templates impose. With Menu Styles you can change your entire design with 1 click with your actual menu items and without any re-typing.
Auto-FIT with menu-smart text alignment
Make your text fit to the page with a single click of the FIT button. FIT resizes all text and spacing within your chosen menu style to fit perfectly on the page. No need to remove menu item descriptions or re-write vital menu copy if your menu has 10 appetizers but your template only has room for five.
Add your own logo, anywhere on the menu
MenuPro lets you add your logo and place it anywhere on the menu. This feature is Style independent, so it doesn't matter which Menu Style you choose - you can still add your logo.
If you want to add more than one image, you can do that too - there are no restrictions on the number of images you can add to any menu. Once on the menu, you can resize or edit any image for the perfect look.
Add your own food photos or graphics
In addition to logos, MenuPro lets you add an unlimited number of photo images or graphics anywhere on the menu. Use your own images or choose from over 1500 menu graphics, backgrounds, or menu borders.
1500+ menu graphics
Included with MenuPro are clipart images, digital food photos, watermark backgrounds and decorative borders — all created exclusively for SoftCafe by top illustrators.
Plus you get over 100 food item highlight symbols like "new", "spicy", "heart-healthy", "vegan", "gluten-free" and more.
Culinary spell-checker
Spell check your menus with a 100,000+ word English dictionary plus any of 10 foreign language dictionaries including French, Italian, British English, Canadian English, Spanish, German, Swedish, Danish, Dutch, Finnish. There's even a special Culinary Dictionary included.
Boost menu profits with boxing
Box any menu item or group of items to draw attention to high-profits foods. Menu engineering has proven that boxes increase order rates by drawing attention to them so MenuPro lets you put boxes anywhere on your menu.
Customize all design elements
Your restaurant is unique, so your menus should be too. To create a unique menu you need the ability to change design elements. Otherwise, you're stuck with the same cookie-cutter menu template that everyone else has.
With MenuPro you can change the fonts, colors, or artwork of any menu design. Mix and max backgrounds and borders or make specific layout changes to individual menu sections. This gives you the ability to express yourself and create something truly original to match the soul of your restaurant.
Create inverted, color-saturated web menus
A MenuPro exclusive, the new MenuPro 10 Invert feature takes any menu, including all text, graphics and images, and inverts all colors with a single click. Instantly create modern and exciting variations of your menu to post online.
Get your menus on Facebook
Publish your menus on Facebook with the MenuPro Menu App. The app lets you easily upload your menus to your Facebook page and gives them a permanent home in a high-profile location so they won't get lost in wall posts.
With the MenuPro Menu App you can display the same in-house, designer menu on your Facebook page, without having to re-create it from scratch.
Use Passwords to restrict staff edits
Utilize multi-level password protection to let your staff create menus without allowing them to edit or modify your food items or menu designs. Up to 10 separate design and editing features can be password protected.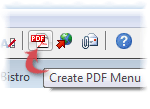 Publish your menus on your website
Keep your website menus fresh and up-to-date with MenuPro's built-in PDF/JPG creator and web uploader. Instantly upload PDF, JPG, or HTML menus to your website or e-mail menus to customers or clients. Introduce new entrées, streamline to-go orders, and promote house specials with a daily online menu.
Add Bin/Numbers to any menu
MenuPro's Auto-Number feature lets you automatically add bin/numbers to any or all menu items on your menu. The text or numbers are automatically aligned and formatted to fit your design - perfect for Wine Lists, Takeout menus, Chinese Carry-out menus, Room Service menus, and more.
Menu cover preview
Before printing, preview your menu in a simulated menu cover using MenuPro's patented menu cover preview display. Useful if you slide your menus into reusable cafe covers or leather-cornered covers.
Highlight high-profit menu items
Highlight the foods you prefer to sell with custom hospitality symbols, icons and graphics. Unlike Word, adding symbols requires no special formatting or hanging indents.
Highlights and boxes are a great way to sell high-profit menu items by drawing attention to them. MenuPro offers a variety of boxing/highlight options to meet these needs.
Easily create 'large-type' menus
Quickly turn your dining room menu into a 'large-type' menu for those with special needs, without retyping or incurring extra costs from a graphic designer, by using MenuPro's Grow Font feature which lets you change all fonts sizes with one click.
140+ Monotype and ITC fonts
Widely regarded as the highest quality fonts available, Monotype and ITC fonts are used by design professionals throughout the world.
The MenuPro font collection is sourced from the original fonts — no knockoffs or clones included.
Create catering proposals with ease
With its food item database MenuPro is perfect for caterers who create frequent menu proposals from a large list of foods and beverages. Plus, MenuPro's instant Menu Style feature allows you to offer your clients multiple looks of the same menu — in literally seconds — without any re-typing.
Multi-Columns with any menu design
Put your entire menu into multi-columns or just specific sections using a variety of quick, column formatting options specifically designed for restaurant menus.
Works for every menu style that we offer.
Any custom size menu with any menu style
With any menu style you can choose any menu size: 8½ x 11, 8½ x 14, 11 x 17, 4¼ x 11 or even enter your own custom size, from 4 to 32 inches. Unlike templates you're not constrained to a particular size since every MenuPro Menu Style is truly size independent — your text is simply reformatted automatically to fit the size you choose.
Automatic price options
MenuPro's one-of-a-kind Price Options feature lets you perfectly add or remove leader dots, dollar signs, and even shift all prices to a new layout with a single click.
You can use it to improve your menu's design, legibility, or as a subtle menu engineering trick to improve profits.*
Add QR Codes to any Menu in one step
With its simple 'insert picture' interface, MenuPro allows you to add QR codes (Quick Response codes readable by smart phones) to any menu in one simple step.
You can use QR codes to promote specials, add coupons, provide information about your menu items, direct customers to your social media links and more.
Create instant table-tents
Turn any menu into a 2-UP or 4-UP table-tent without having to retype or start from scratch. It's just one click of the table-tent button for an instant MenuPro table-tent.
Promote Daily Specials with fast mobile menus
Convert any MenuPro menu into a fast and lightweight HTML mobile menu for customers who use mobile browsing.
HTML menus are lightweight and load faster than PDF menus allowing your customers to quickly check your menus and daily specials from the office, home, or on the road.
Keep your data secure and accessible at all times
Since MenuPro isn't web-dependent, you'll feel comfortable knowing you can use it whenever you want, even when the web is down. You can make last minute menu substitutions or price updates even without internet connectivity — a must for today's competitive restaurants.
Plus, since MenuPro runs on your desktop its super-fast. No waiting for laggy web servers and no delays in editing or viewing your menu. And you'll get peace of mind knowing your private data won't be comprised or lost due to internet outages, downed cloud servers, or hackers.
And unlike subscription services, which can raise your prices at any moment, if you buy MenuPro you own it forever — there's no extra charges, no monthly fees, and and nothing to worry about.
MenuPro comes complete
MenuPro is easy to install and use. All fonts, Menu Styles, borders, and graphics are installed automatically. No other program or software is required.
---
MenuPro Graphics
MenuPro comes with over 1500 graphics & clipart images for restaurant menus including food & themed clipart, illustrations, borders, food photos, watermarks, backgrounds. Also included are over 140 genuine Monotype and ITC fonts.
With MenuPro's easy-to-use interface, it's a snap to add any image, logo, or background to your menu.
You can add as many images as you like and place them anywhere on the menu. You can also mix and match fonts, borders and backgrounds with any menu design. Here's a sample of what's included:
Classic Loose Ink Illustrations
Stylish food and menu clipart in a classic loose ink style - created exclusively for SoftCafe by artist Stuart Armstong.
Well defined shapes and sharp lines make these images stand out on any printer.
Each image has been converted to vector format, so resizing maintains smoothness (some images come in color and watermark variations).
Menu Design Illustrations
Vibrant original illustrations of foods and hospitality themes from designer and master illustrator Tim Webb - all drenched with intensely colored ink.
Each image comes in color with a black and white version as well.
All images are resizable and scalable within MenuPro.
Backgrounds and Watermarks
Watermarks and menu backgrounds of all types, from subtle filigrees to bold statements.
Each can be used as a primary background or can be resized to work in combination with other art.
Solid-color backgrounds, background patterns, and "old menu" paper simulations are included as well.
MenuPro Food Photos
Food photographs of the highest quality - shot exclusively for SoftCafe - from inviting ingredients to tools of the trade.
Additionally, each photo has been PhotoShopped with digital filters by our designers and comes in six different variations: photo, watercolor, drop shadow, sepia, charcoal, and menu background.
All food photos are color corrected and background free
MenuPro Fonts and Borders
Choose from simple border graphics to intricate Art Nouveau - from casual to fine dining, to everything in between.
Also included are themed and fancy borders perfect for children's or holiday menus.
Over 140 ITC/Monotype Fonts
The fonts that come with MenuPro are licensed from Monotype Imaging and ITC (International Typeface Corporation and Linotype GmbH). All fonts are original source fonts, not knock-offs or crude imitations. With MenuPro you get the real deal — the same typefaces that professional designers use.
Fonts include brush and casual scripts, hand-written fonts, bold headliners, grunge fonts, blackletter fonts, formal fonts, and every-day workhorses.
You also get the entire font — not embedded restricted versions like those those found in Word menu templates. So you can use any of our fonts with any program on your PC.
And of course, you can use your own fonts with MenuPro too. So go ahead — transform any MenuPro Menu Style into your own truly original menu design with just a few clicks. It's part of what makes MenuPro so fun to use.
For more information about Monotype fonts visit them at www.fonts.com
---
Compare MenuPro
The difference between MenuPro, Word, Publisher or other template based systems is that MenuPro lets you store your menu items in a Food Item List and uses a unique system called Menu Styles.
The Food Item List acts as a database that lets you enter and save any number of menu items for instant recall. And Menu Styles are like templates but more customizable (any design element including background, fonts, border, layout, etc. can be swaped) and much more flexible (any Style can be swaped with any other Style without any re-typing).
Both are exclusive to MenuPro and together these two features separate MenuPro from anything else. But there's more:
MenuPro Comparison Chart