SoftCafe MenuPro
The fast, fun, and easy way to create professional menus for your restaurant
---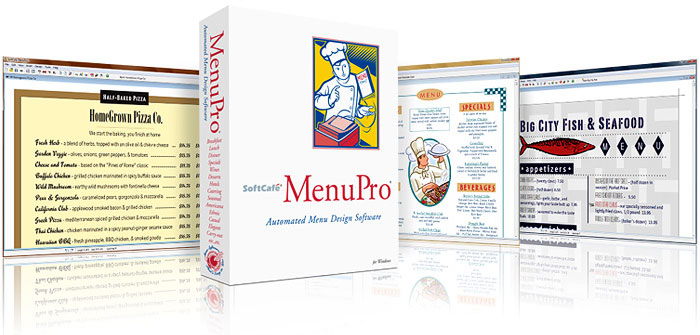 What is MenuPro?
MenuPro is a menu design program that gives you everything you need to create and print your own menus. From daily specials to complete dining room menus, MenuPro gives you quick, professional designs without the expense or hassle of using a graphic designer or word-processor.
Since it's desktop software (not a service) it's fast, doesn't require an internet connection, and there are no monthly fees.
Only MenuPro® has 1-Click Menu Design
MenuPro works like nothing else - you drag & drop your menu items from a list to a menu on the screen. As each item hits the menu, the program auto-magically formats it so that everything lines up into a professional design.
If you decide to try out a new look, there's nothing to re-type. MenuPro switches to an entirely new design including layout, background, fonts and colors - all while retaining your actual menu text - with a single click.
Key Features
Simple to Use — clean and uncluttered, no complicated commands
Efficient — stores foods in a list, create menus and daily specials with drag & drop
Professional Designs — over 175 instant Menu Styles, all interchangeable with 1 click
Design Flexibility — change fonts, layout, background, graphics, colors & menu size of any menu
Unlimited items — add any number of foods, beverages or headings to any menu
Add your Logo — or select built-in menu graphics to convey your restaurant's identity
Fast and Reliable — runs on your desktop, no internet connection required, always available
Save Time & Money — no waiting for changes, no printing service expenses, no monthly fees
Faster than Word. More than just templates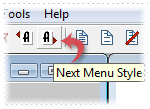 MenuPro stores your menu items in a list that's separate from your menu design. So you can change either independently. Since your foods are always 'on file' and ready to go, the time consuming task of re-typing to create a new menu is eliminated.
To create a new daily specials menu, just drag & drop from the list. Change prices or make menu substitutions at any time. With a few quick edits you're ready to print new menus.
So easy, anyone can use it
MenuPro menu software comes complete and ready to use — here's how it works:
Type your menu items into a list, then drag & drop them over to a menu on the screen. MenuPro then does the layout and design for you automatically based on your chosen Menu Style.
Try out new designs with one click without any re-typing. Customize by adding your own logos, fonts, or change layout options. There's even a culinary spell-checker.
When you're finished, print as many copies as you need in-house or email a high-quality PDF to your local printer for high volume printing. Or publish your menu online to your Website or Facebook to promote your latest specials, prices, and offerings.
Create the menu you want
Your restaurant is unique. Your menus should be too. So MenuPro gives you instant 'Styles' but then lets you customize every aspect of the design to make it your own.
Change the menu size, layout, background, border, fonts, accents, and columns of any menu design.
Plus add your own logo and artwork to brand your menu, and boost menu profits by choosing powerful program options such as highlighting, boxing, food symbol icons, flexible price positioning, and more.
Keep your printed menus and web menus in-sync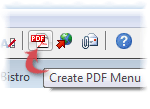 With MenuPro's built-in PDF/JPG Creator and web uploader you can quickly publish your menus to your Website or Facebook to keep your online menus in-sync with your printed menus.
Make instant menu changes without having to wait for a graphic designer. Post daily specials or holiday menus online with just a few clicks. Easily upload your full dining room menu, anytime — to Facebook or your Website — for free.
Save money on menu printing and design
If you change your menus frequently to keep up with the competition and fluctuating food costs, the cost of designing and printing professional menus can be significant. MenuPro will pay for itself the first time you use it.
You'll save money because you won't need a graphic artist. You'll save money because you won't have to pay a printing service. And when food costs change, you'll be able to react instantly with a new menu and new prices — a must in today's competitive marketplace.